A leather puffer jacket is for the bold. It is for the guy who is tired of the traditional puffer jacket and wants to take their winter style to the next level. While we can all agree that a polyester shell is a classic and will never go out of style, switching to the leather trend will help elevate your winter style making it become a statement piece in your wardrobe.
This season, one of the hottest outerwear trends is the puffer jacket reimagined. Winter fabrics such as corduroy, suede, and leather are some of the materials that are encasing the down or synthetic padding, providing extra warmth and much-needed texture contrast.
Like all leather clothing, you get to decide to go down the real or faux route. With faux leather, you are saving money and an animals life. Win-win. The benefit of a genuine leather jacket is the longevity of the garment, but your bank account won't be please with the investment you are making.
---
How do I style a leather puffer jacket?
Styling is crucial when it comes to crafting your winter outfit. The first look that comes to mind is an all-black monochromatic look. This will make the jacket merge into your colour scheme while still standing out with the sheen of the leather fabric.
---
For variation, switch up your trousers for your favourite seasonal pants to contrast the rich black colour.
---
Where can I buy the best leather puffer jackets?
---
ZARA – FAUX LEATHER PUFFER JACKET – £89.99
---
PULL AND BEAR – BLACK FAUX LEATHER PUFFER JACKET – 55.99
---
TOPMAN – faux leather puffer jacket in ecru – £80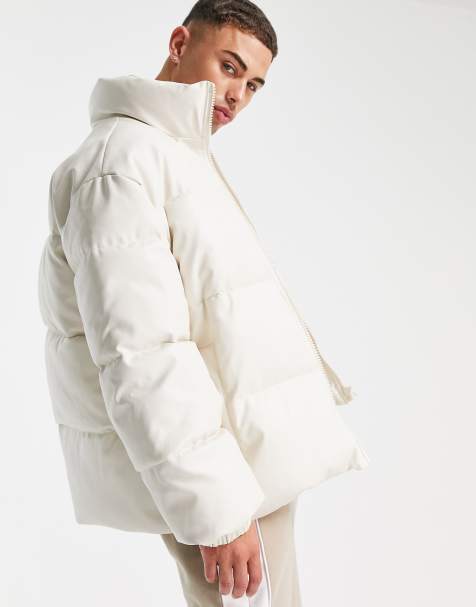 ---
ZARA – FAUX LEATHER JACKET – £79.99
---
Break the bank
If you want to splash the cash on a leather puffer jacket then you have come to the right place. Here are the more luxury versions that will but a slight dent into your wallet.
---
MASSIMO DUTTI – NAPPA LEATHER QUILTED JACKET – £299
---
H&M – Quilted grape leather jacket – £229.99
---
MANGO – Short leather anorak – £339.99
---
MASSIMO DUTTI – NAPPA LEATHER QUILTED JACKET – £299
---
Do you see yourself updating your puffer jacket for a leather version?