Belts are usually an accessory that serves a functional purpose rather than helping your outfit become more fashionable. However, with the western belt trending, you are now forced to rethink the role your belt plays and ask yourself why you've never considering wearing it before today.
When you think of buying a belt, I am sure the last thing you think of is a cowboy belt. Like all under the radar fashion trends, they suffer from a marketing problem. The problem could be visibility. The more you see guys flaunting their western belts, the more you might be more inclined to give it a try. My task today is to increase awareness of the western belt and showcase that this cowboy staple deserves a place along with your current leather belts.
What are the different types of western belt styles?
The western belt can have a variety of belt buckles. The most common is the oval buckle. A metal plaque belt engraved with floral detailing.
The other option is an engraved metal buckle which is slightly less bold than a metal plaque. The buckle and the tip of the belt has been elevated with intricate carvings
---
How do I style a cowboy belt?
If you want to wear the cowboy belt for your everyday style you want to show off the buckle detail. A casual outfit could work well to contrast the western style design—Tuck your favourite swatter or top int your trousers to showcase the belt.
---
The western belt comes to life in an evening wardrobe. Finish the look with your favourite dark denim and a formal shirt. To continue the cowboy theme add a Kentucky gambler tie.
---
If you are ready to add a western sensibility to your wardrobe, then dive into some of my favourite styles you can buy.
---
PULL AND BEAR – Faux leather Cowboy belt – £9.99
---
OUR LEGACY – Riveted leather and webbing belt – £120
---
ASOS DESIGN – western belt in black faux leather – £12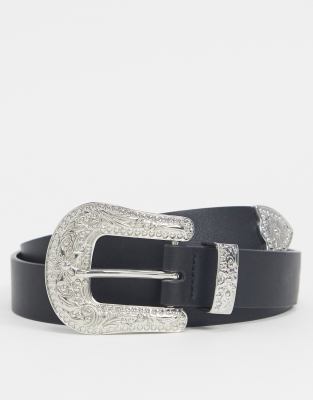 ---
PULL AND BEAR – Black belt with Cowboy buckle – £9.99
---
ASOS DESIGN – Super skinny western belt – £12
---
Do you think you could pull off a cowboy belt?