With every piece of clothing, there are many variations, silhouettes and fabrics that require you to have multiple versions of the same garment. Sometimes the options can be endless, but at the heart of it, your goal is to increase your wardrobe's versatility.
Let's take the classic white shirt. You would think a white shirt only needs to be purchased once, but there are countless iterations that you need to own to ensure you have a shirt for every eventuality. From a tuxedo to a business shirt, your job is to ensure your apparel can serve every purpose.
Here are some of the best shirts you should have in your wardrobe.
---
THE WHITE BUSINESS SHIRT
There should always be a place for a business shirt in your wardrobe. Out of all the shirts on this list, the business shirt should be your number one priority. It will be needed if you work in an office environment with a formal dress code. You will also need to wear it to attend an interview or a formal event. As you will be wearing it frequently, it helps to find a shirt brand that makes the perfect style. Make sure your shirt has a good fit and is made from high-quality cotton.
---
While I am not really a fan of short sleeve office shirts, they are a must when the weather becomes too hot.
---
THE WHITE DRESS SHIRT
You'll never know when you will be invited to a black-tie event, which is why you must have all the elements needed to create a traditional black-tie look on standby.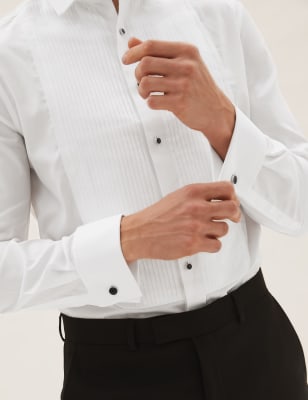 ---
THE WHITE RESORT SHIRT
When the weather warms up, there is nothing better than wearing a white resort shirt.
---
THE PRINTED SHIRT
Summer is never complete without a printed shirt, and prints stand out the best on a white base.
---
THE LINEN SHIRT
When you are packing for a beach holiday, a linen shirt should always be at the top of your clothing list. White is the best colour to match with any colour you bring with you.
---
THE MODERN SHIRT
There are days when you need to show off your fashion prowess, and the best way to do that is to wear something that your peers will never think to wear. That's where a modern design comes into play. A modern shirt will help you stand out in all the right ways.
---
THE GRANDAD COLLAR SHIRT
While I love ironing, I have never enjoyed ironing the collar of a shirt. Wearing a grandad collar shirt alleviates that stress. This shirt style is excellent if you want to wear a suit but with a subtle twist.
---
What are the best white shirts you own in your wardrobe?