One of my secrets to building a substantial collection of clothes is setting a foundation with the number of trousers that you own. As long as I have trousers silhouettes, lengths and styles for all occasions, it makes it easier for me to put a lot together.
A silhouette that you may not have considered buying is the wide-leg trousers. For some, wide-leg or relaxed silhouettes are q­uite far removed from your everyday style. We naturally gravitate towards more of a slim profile while forgetting about the fits on the other end of the spectrum. While it's great to have more figure-hugging trousers, if you introduce a wide-leg shape, it gives your wardrobe variety and provides more styling options.
---
How do you wear wide leg trousers?
There were two lengths you can go forward a wide leg. You can go for the bootcut which goes beyond the base of your shoe,
or you can go from more of a cropped length.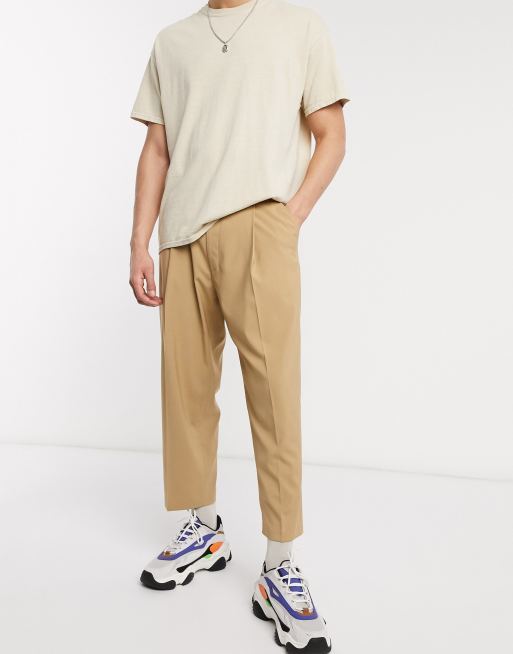 ---
If you are a wide-leg newbie, a Bootleg cut might be too extreme for your first run, as not only is the silhouette wider than you are used to, the length is also longer than usual. I recommend gravitating towards cropped wide-leg trousers. Here you can play with sock colour and your shoe choice. A popular cropped wide-leg combination is wearing tech running sneakers.
How do I style wide-leg trousers?
Now that you are happy with the length of your cropped trousers, the last thing to think about is the style. Tailored wide-leg trouser with pleats will always be my favourite style, but you can also opt for a chino or even a casual jogger.
When it comes to the top half of your look, you can complement your wider silhouette with an oversized top, or you can go the opposite direction and slim it down.
If you are ready to give the wide-leg silhouette a try, I have outlined some of the best wide leg trousers for men you can get your hands on from the high street.
---
ZARA – WIDE-LEG TROUSERS – £29.99
---
OLIVE – Genji Wool Pants, Black – £74
---
ASOS – balloon smart trousers in purple – £35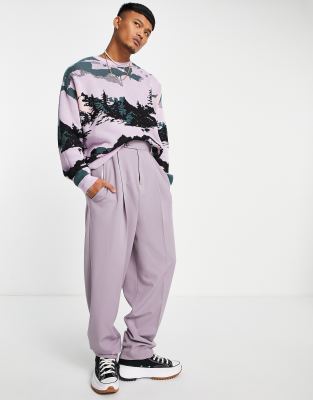 ---
COS – RELAXED-FIT WIDE-LEG TROUSERS – £79
---
OLIVE – Cameron Check Trousers, Beige – £84
---
WEEKDAY – Conrad Wide Leg Trousers
---
ASOS – wide leg suit trousers in chocolate brown – £40
What are some of your favourite wide leg trousers for men?