Yes, I have decided to dedicate an entire blog post on lint rolling. Excessive perhaps, but necessary. Lint rolling has been a pillar in my getting ready-routine for the longest time. If you don't lint-roll, then you need to reconsider your fashion credentials.
If you gravitate towards dark colours, live in a dust apartment or own a pet, you need to have a lint roller in your wardrobe. Nobody wants to leave the house looking like they have rolled around in a dust field. Just by owning a lint roller, you have prevented this fate from becoming your reality.
---
WHEN SHOULD YOU LINT ROLL?
No matter what colour I am wearing, the last step in my routine is the lint roller. I start at the top of my outfit and work my way down, ensuring clothes are as lint-free as I can get them. Once you are out and about, there is no controlling the amount of dust that land on your clothes, but at least you attempted to start from a good place.
WHAT MAKES A GOOD LINT ROLLER?
I must sound like a real fashion nerd, but there is a difference between a high and low-quality lint roller. And yes, I do have a life. A well-made lint roller is one that is sturdy and easy to hold, which can glide along your body with ease. It should pick up lint easily without having to tear off a new sheet too often. No one wants a lint roller with insufficient sticking power. The larger the lint roller, the better, I own a lint roller in the shape of a paint roller, allowing me to cover large amounts of fabric per roll. If you want a lint roller on the go, then a compact size is ideal.
Once you have all these factors ticked off, you have found yourself the perfect lint roller. Here are some of my favourites you can buy.
---
IKEA – Lint roller, grey – £0.75
---
Muji – Portable Lint Roller – £3.95
---
Robert Dyas – H & L Russel Professional Lint Roller – £3.99
---
JML – Fast Fit Sticky Roller – £7
---
OXO – Good grips lint remover – £13.99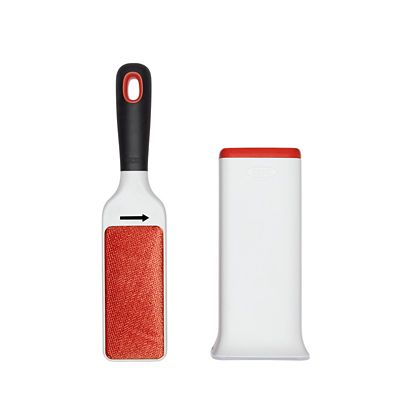 ---
---
What are some of your favourite lint rollers you like to use?