Is there such a thing as the perfect pair of denim? If there is, I have yet to find them. My relationship with denim has been quite disastrous, I have been on a constant journey to find the perfect pair of jeans that are made well, that are affordable but can last longer than a season without fading or ripping at the crotch area. 

What makes a good pair of jeans? 
1. THE FIT
The first ingredient of a good pair of jeans is the fit. They have to fit well. From slim fit to modern to relaxed, whatever silhouette you prefer, the jeans have to fit well and work towards your body shape and style. Jeans that fit well means you can buy them in different washes, colours in styles.
2. QUALITY 
The quality of a good pair of jeans is hard to determine from face value, especially when you are buying from the high street. Buying From a well-known denim brand helps in terms of reputation, but there is never a guarantee that the jeans you are buying will last. 
The only way to thoroughly test out the quality of denim and is time. Time for those jeans to be worn, experience wear and tear, get dirty and washed (when needed) to showcase if they are quality jeans to result in a repeat purchase.
3. PRICE
While denim will never go out of style, you don't want to be paying extortionate prices. I believe a good pair of jeans should be under £100, which is the benchmark I am using to select the best affordable jeans. 

Price, quality and fit. Here are the best brands to get cheap yet good quality men's jeans.
---
Arket men's denim has two main denim styles, Japanese raw selvedge denim and organic cotton denim. Prices start from £59.
Uniqlo jeans come in a range of affordable styles with a variety of denim techniques such as EZY, selvedge and Ultra light 3D. Prices start from £24.90
Each Massimo Dutti jeans features at least 15% sustainable cotton. With three distinctive fits, the collection starts from a modest £49.95.

MANGO MAN
Mango denim starts from £35.99 – £59.99 range. The jeans collection features capsule denim styles with recycled denim and denim produced under the ECO WASH accreditation.
With jeans made from organic cotton, ranging from £30 – £55
Calvin Klein denim starts at the £80 price range with classic and seasonal styles. The denim collection also features an ECO series focusing on "lower-impact techniques".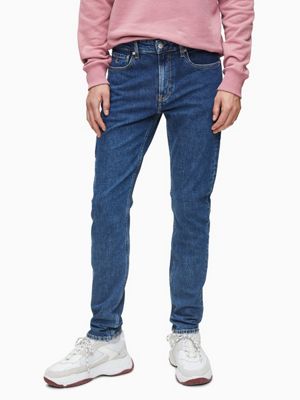 What are some of your favourite cheap men's jeans you like to buy?