Make a bold statement with your wardrobe by turning up the neon dial with an explosion of fluorescent colours. Wearing neon is about taking a risk with your style, injecting colours into your wardrobe that you are not used to wearing.
If you are not familiar with high vis colours, there are a few tricks that can help you make a fashionable impression instead of looking like you should be diverting traffic. The trick is to arm yourself with simple styling techniques that demonstrate how to dial up the neon intensity from subtle to full fluorescent. If you are ready to take a plunge into the unknown colour territory, then you have come to the right place. Here are my favourite ways to wear neon.
---
A HINT OF FLUORO
A simple way to jump into the neon trend is by starting small. Opt for an accessory or a shoe to inject the colour into your outfit. A hat, for example, is an easy way to nod to the trend while retaining your style aesthetic.
---
My favourite neon accessory is a cross body bag. You can wear it over knitwear or a coat to create a bold colour contrast.
---
NEON LAYERING
Another way to style neon is through the art of layering. Neon is visible but slightly concealed behind another layer. This way, the bright colour is sandwiched between contrast shades to create an eye-catching distinction of colour. A hoodie instantly comes to mind and can be styled under a winter coat or a casual tailored look.
---
A basic tee or a roll neck can also work with this technique.
---
Give neon more prominence by layering it over a top.
---
BALANCING NEON
Neon can be balanced by diffusing it with a darker colour such as khaki or black. For extra style points, tuck your top into your trousers for a distinctive colour contrast.
---
Fluorescent green is not the only colour you have at your disposal. Remember to experiment with all shades of neon, from yellow to orange to magenta.
---
FULL FLUORESCENT
With a full fluorescent look, all subtlety is out of the window. Think fluorescent outerwear or tailoring. Full fluorescent means incorporating more than one neon clothing into your look to create a strong colour statement. You can focus the colour into one half of you look by wearing a top and jacket.
---
If you really want to stop traffic, then go for a full monochromatic look.
---
Where can I buy the best neon clothes?
---
BERSHKA – BASIC JOGGING TROUSERS – £25.99
---
BERSHKA – Cargo trousers with details – £45.99
---
CALVIN KLEIN – ORGANIC COTTON COLOUR BLOCK LOGO HOODIE – £90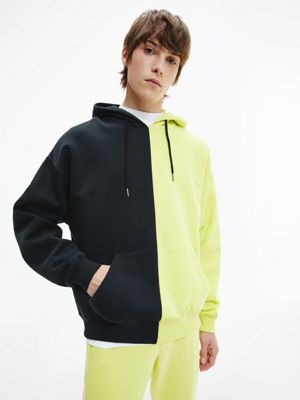 ---
WEEKDAY – Jochum Utopia Sweater – £45
What are some of your favourite ways to wear neon?