I am content with my wardrobe, but I feel like I need to expand my collection of accessories. Wearing jewellery is a great way to enhance your outfit and add some personality to your look. However, I noticed that there are not as many options for men's jewellery compared to women's. Although I understand the reason behind it, the few brands I came across did not offer a wide range of choices. I was hoping to find affordable men's jewellery brands with modern and stylish designs that can stand the test of time.
After some searching and consolidating, I have compiled a list of the best affordable men's jewellery brands for you to check out. The first brand on my list is Vitaly, which has a wide range of trendy and edgy jewellery designs that can elevate any outfit. Their collection includes rings, bracelets, necklaces, and earrings, all at an affordable price point. Another great brand which i love is Miansai, which offers a more classic and timeless selection of men's jewellery options. From leather bracelets to gold-plated necklaces, Miansai has something for every style preference.
If you're looking for affordable men's jewellery options with classic and timeless designs, Miansai is a great brand to check out. They offer a wide range of options that include leather bracelets, gold-plated necklaces, and more. Two of their popular pieces include the Miansai Hooked Leather Bracelet and the Miansai Nyx Cuff Bracelet. These pieces are great keys to elevate any outfit and add some personality to your look.
I hope this list helps you find the perfect men's jewellery pieces to add to your collection. Remember, jewellery is a great way to express your personal style and add some flair to any outfit. Don't be afraid to experiment with different styles and brands until you find the perfect pieces for you.
Here are the best men's affordable jewellery brands:
---
Founded in Miami in 2009. Miansiai designs draw inspiration from the modern world. Designs are inspired by the world of exploration and discovery.
Each piece of jewellery is crafted from the highest quality materials from fine Italian leathers to pure precious metals.
---
Thomas Sabo is the rock and roll of men's jewellery. While Miansai designs are contemporary and modern, Thomas Sabo jewellery is unique, dynamic and creative, ensuring your jewellery will make a statement whenever it is worn.
They are the embodiment of high-end silver jewellery, and they pride themselves in ensuring their designs are always in tune with the times.
---
All blues was founded in 2010 are based in Stockholm. Every piece of jewellery is handcrafted in Stockholm by highly skills artisans using 925 sterling silver and 18ct gold.
Their designs are sleek and contemporary. Their stand out pieces is a timeless texture rock-inspired ring inspired by rock formations found on the coast of Gotland Sweden.
---
Founded in 2019 – Dear Letterman designs are inspired by the founder Cass Murad and the trinkets he used to receive as a gift as a child. Working with artisans – designs are crafted using traditional old-world metal casting techniques using the best metals to create handcrafted styles.
Styles range from necklaces to rings with a distinctive medallion. The jewellery is made from sterling silver or 22kt gold-plated sterling silver.
---
Founded in London with a desire to "fill the gap between quality jewellery and unnecessary markups across the industry."
Designs are refreshing in the affordable men's jewellery world where design is not always at the forefront of fast fashion brands. Craft jewellery is crafted from premium stainless steel with higher-priced styles crafted from 18K gold.
---
TWO JEYS was founded in 2019. The brand was born out of a necessity to create a jewellery brand matching the style of the two founders. Each piece is handcrafted in Spain and will be a timeless and unique addition to your collection.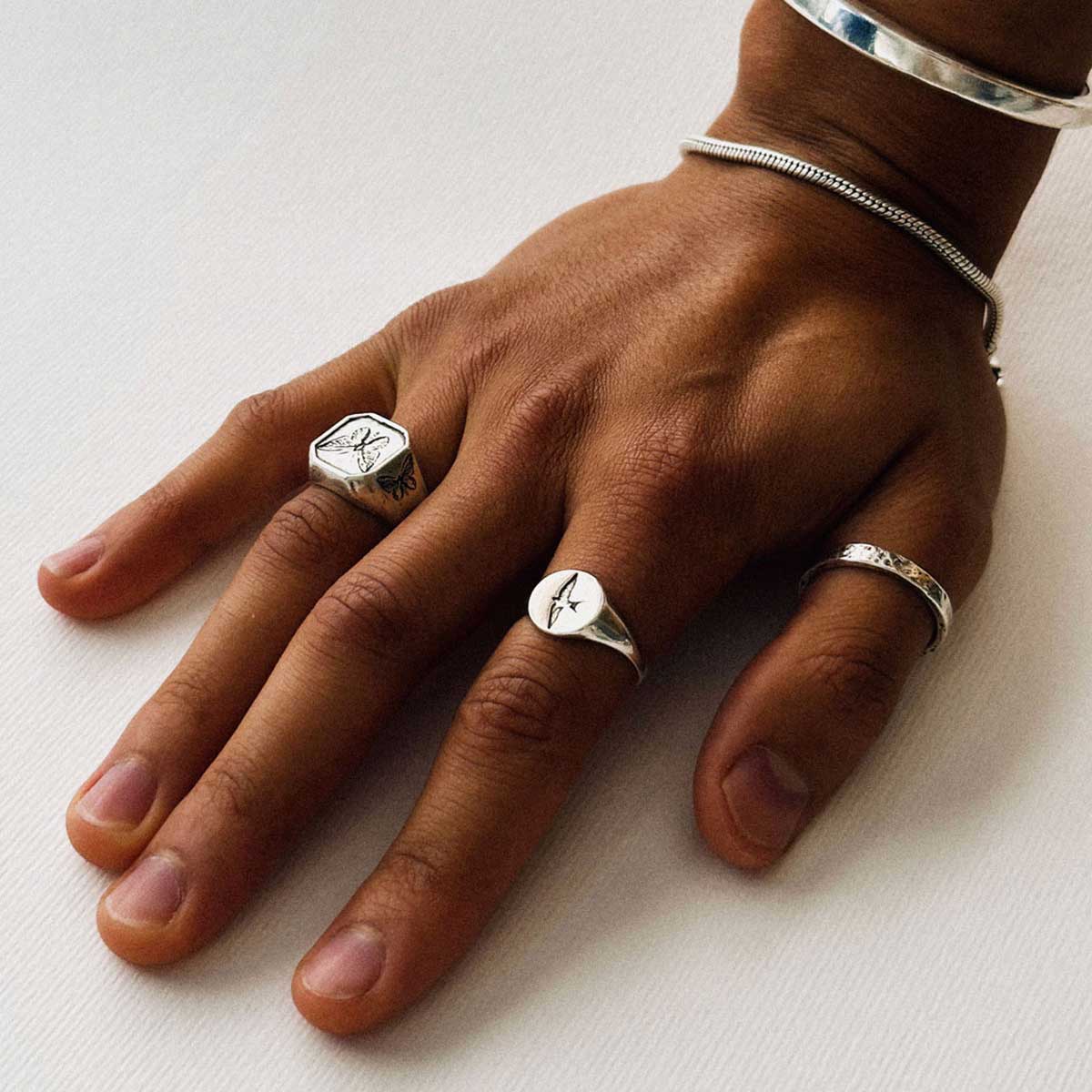 ---
Serge denimes is a fashion jewellery brand founded in London in 2011. Each piece is made from 925 Sterling Silver. Designs range from classic jewellery pieces to statement designs.
---
Chained and Able offers an affordable entry into fashionable jewellery. The brand represents British design with styles handcrafted in the UK.
---
What are some of your favourite men's jewellery brands?