With the pressure to make more ethical fashion choices, I'm starting to re-look at my wardrobe with a new lens. One of the ethical fashion choices that I am struggling to make is switching from leather trainers to vegan alternatives. My issue with vegan leather footwear is simple. They are downright hideous to look at.
The look of a sneaker plays an essential part in the buying process, and I have no doubt that if more vegan shoe brands focused on this part of the design process, it would persuade more people to make a switch.
Luckily, there are a few brands that measure up with their design. Here are the best looking men's vegan leather trainers you can buy.
---
MOEA
Moea sneakers are derived from grape waste from the wine industry in Italy which is then recycled into a wearable material.
---
NEW BALANCE
Made from a combination of sustainable materials such as synthetic leather and recycled polyester.
---
ON RUNNING
THE ROGER Centre Court 0-Series – £200
A Limited edition perforated vegan leather tennis sneaker.
---
ELLIOTT FOOTWEAR
Low Classic VEGAN Leather White – £155
Vegan and 100% recyclable, a perfect addition to your eco conscious wardrobe.
---
BEFLAMBOYANT
Vegan and cruelty-free, the unisex UK-68 comes in 6 colours and is hand-made in Portugal.
---
WAES
1981 – Black Leather Trainer – £160
Proudly plastic-free, the 1970 sneaker is made from 100% natural materials. This minimal sneaker ticks all the boxes of an aesthetically pleasing minimal lace-up sneaker.
---
PO-ZU
The Sneak V trainer is made from 100% vegan leather. The sustainable sneaker is detailed with a cork style tab at the back and features a unique perforated design.
---
NØGEN
Still in the crowdfunding phase, these vegan trainers for Nogen are reminiscent of Nike Airforces. They are made with 100% vegan Leather, recycled Plastic and Cotton.
---
VEJA
Recreating the classic v-10 sneaker in C.W.L Leather made from corn waste. The vegan V-10 is available in multiple colours.
---
YATAY
Made from sustainable recycled raw materials and approved by Peta the Yatay vegan NEGAN sneaker is your clean tennis shoe with distinctive brown hemp laces.
---
WILLS VEGAN STORE
Made with plants using bio-oil. The NY sneaker has fewer lace holes than usual and is detailed with a contrast gummed sole.
---
ROMBAUT
The Boccaccio sneaker blends the world of high fashion and sustainability. Made from vegan leather, the Rombaut sneaker features a distinctive etched sole and raised upper panels.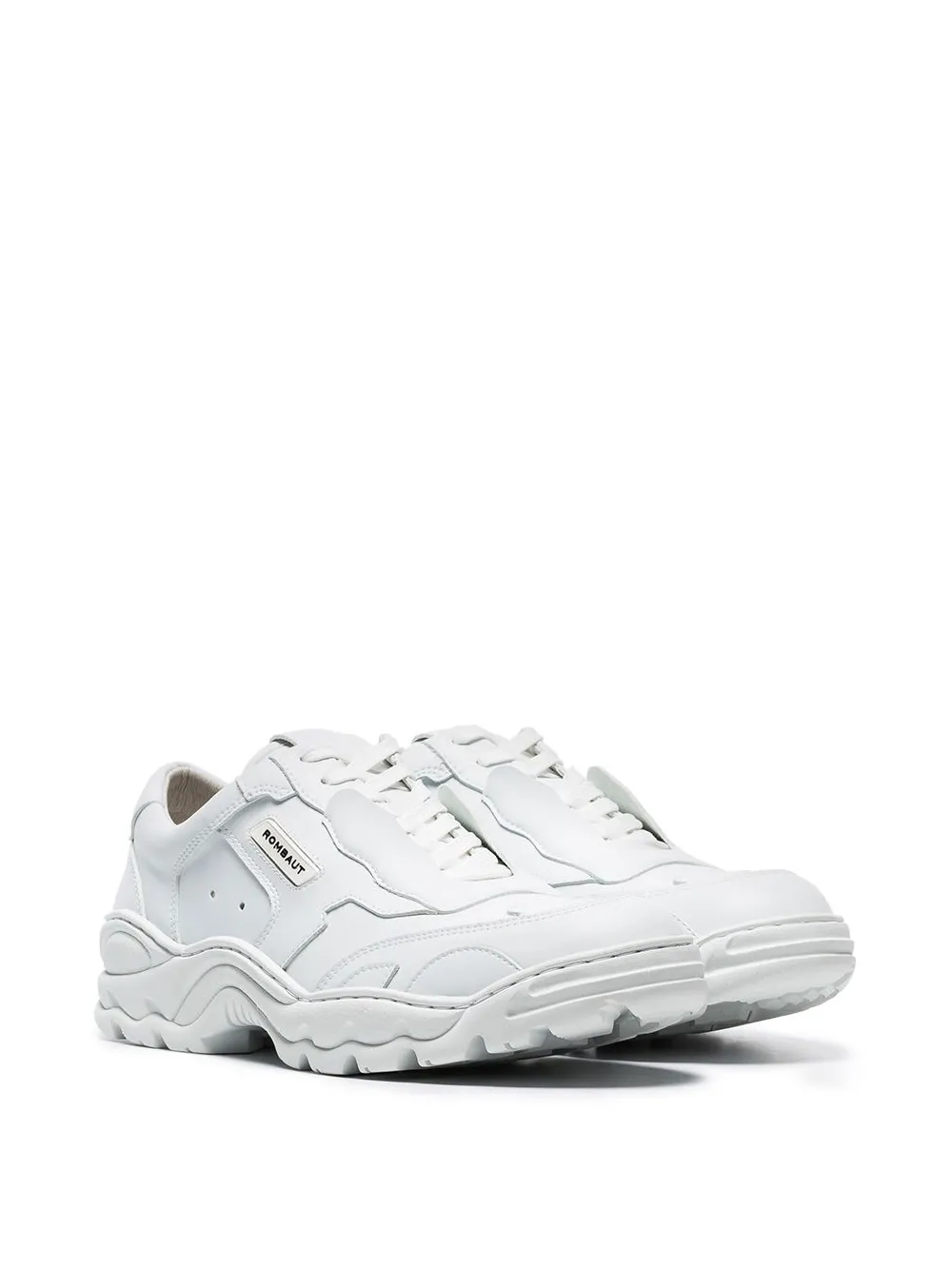 ---
GRENSON
Out of all the vegan trainers in this list, these Grenson Sneakers are by far the best looking and well-crafted of the bunch. The Sneaker 1 is made from microfibres that mimic natural cowhide, creating a worthy matchup to a calf leather alternative.
---
WILLS VEGAN STORE
If you love the Air Force Ones, then these sneakers from Will's vegan store are from you, made with plants using bio-oil.
---
What are some of your favourite men's vegan leather trainers?