A blazer can live many lives in your wardrobe taking you from the office to an evening event, to a summer wedding and be styled off duty for the weekend.

For fall 2019, there are five key trends that you need to be familiar with to ensure your blazer gets the attention it deserves.

Here are the 5 best men's blazer trends this season.
---
THE DOUBLE-BREASTED BLAZER 
The double-breasted blazer is the ultimate embodiment of a sartorial look. While most guys stick to the single-breasted silhouette, going down the double-breasted route will make you stand out in any room that you occupy.
THE VELVET BLAZER
Give your evening-wear wardrobe a touch of sophistication with a velvet blazer. Style with black trousers to give the blazer the focus of the outfit.
THE CORDUROY BLAZER
Corduroy is one of my favourite winter fabrics. The distinctive twills can add dimension to your tailoring — style with a roll neck jumper and matching cord trousers.

THE CHECK BLAZER
Winter tailoring brings a wealth of patterns and textures into the suiting world. From herringbone to Prince of Wales, a check blazer can add a seasonal flair to your work wardrobe. 
THE LEATHER BLAZER
Leather is trending this season resulting in unexpected leather interpretations of wardrobe staples. I've never seen anyone wear a leather blazer in the flesh, but It would look super chic when styled in an all-black look with jeans and a T-shirt.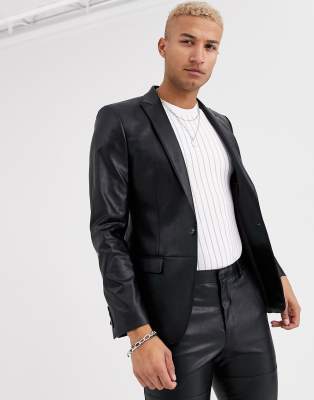 What are some of your favourite men's blazer trends?