With the utility trend taking over men's fashion, it's time to move on from the popular crossbody bag and inject a touch of functionality to your accessory collection with the popular men's chest bag.
The chest bag is something of a paradox. While it is a bold and stylish accessory to wear, I have yet to see someone in real life wear one. That could be down to how distinctive the bag is. I can imagine someone scrolling through the bag section and being intrigued by the chest bag only to be stuck on how to adapt the bag into their everyday style.
---
What are the different chest bag types for men?
Not all bags are made the same. There are multiple styles that can create a different style aesthetics, depending on how they are worn.
THE CHEST HARNESS is worn over the neck and has two main compartments that clip together. This style is usually less bulky than a regular chest bag and can easily be worn over or under your clothing.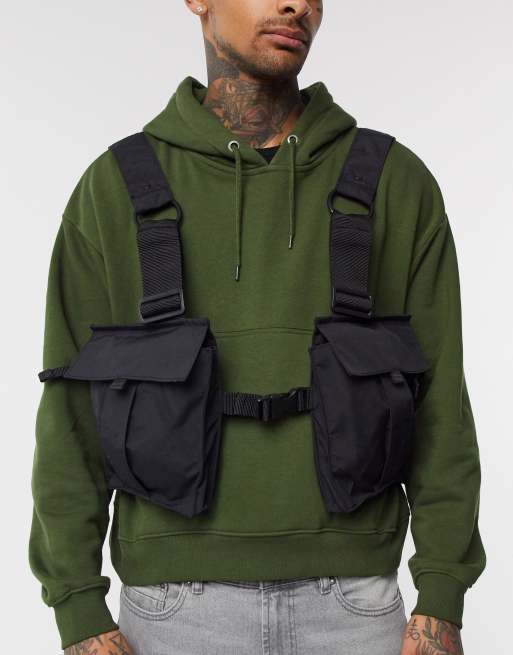 ---
THE CHEST RIG has a large rectangular multi-compartment. The bag has two sets of straps—one to go around the neck and one around the body to secure the bag in place.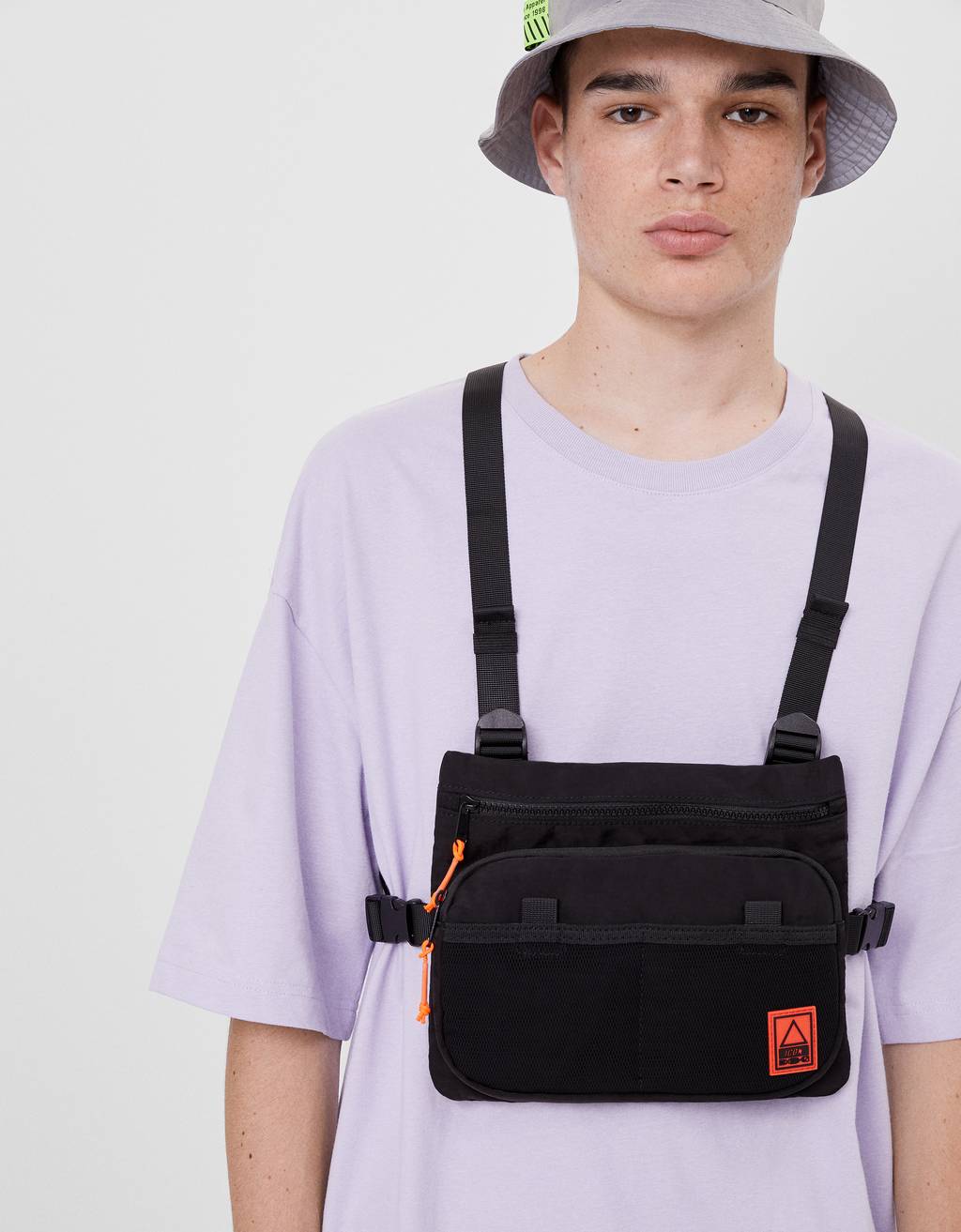 Other variations also support the bag with a mesh style layer.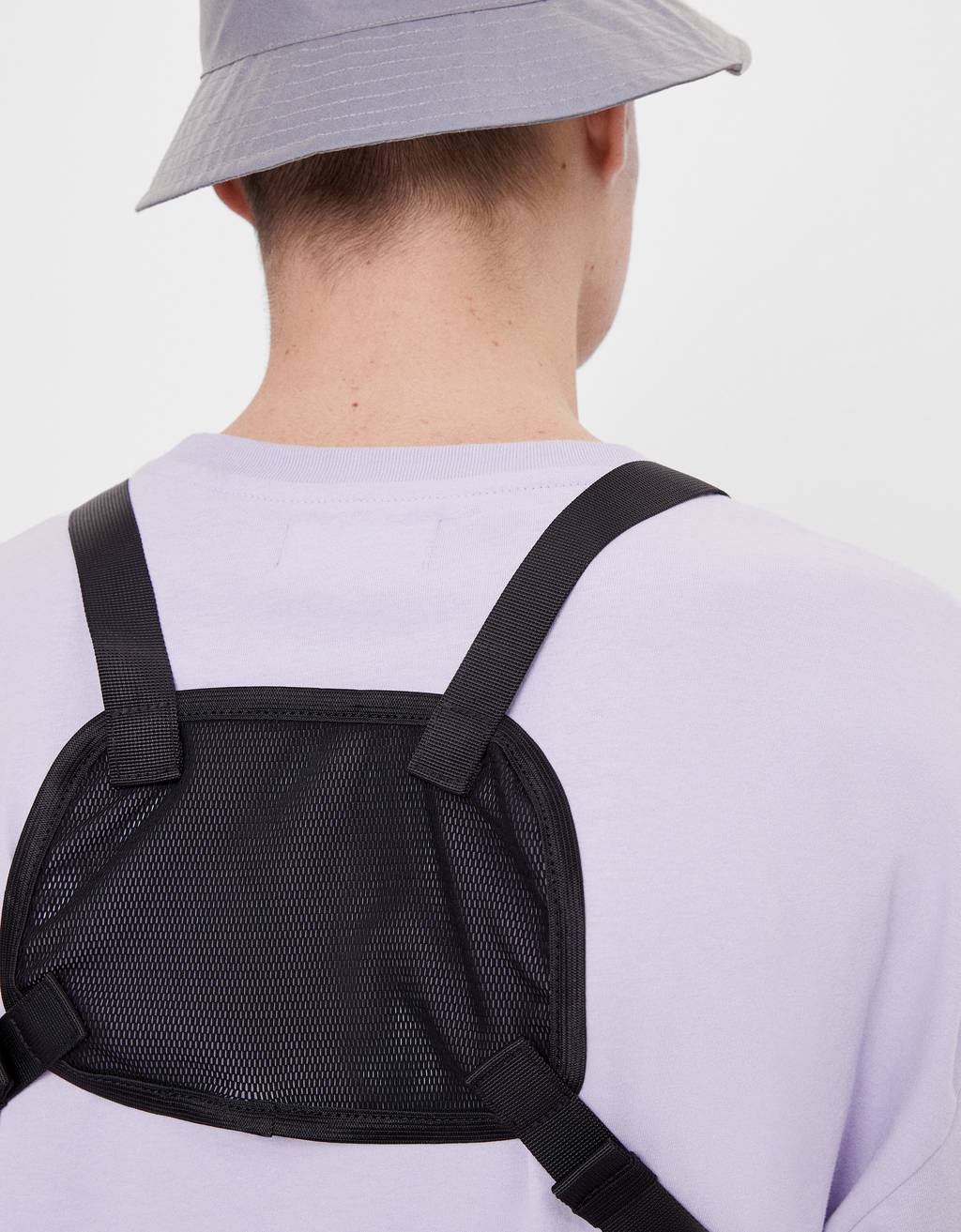 This style comes typically in a bulky rectangle shape or a rounded version.
---
How do I style a chest accessory?
The chest bag might look scary to wear because of the multiple straps, and often bulky design, but styled correctly can give your look a streetwear edge.
FORMAL: No will expect a streetwear accessory styled over tailoring. Forget the briefcase and introduce the chest accessory into the boardroom.
LAYERED: For the less bulky bag styles, layering is one of the easiest ways to slip this bag into your look. Style under your favourite outerwear for a discreet look. No one will ever know you are wearing a bag.
IN FULL VIEW: For a casual look, wear the chest accessory over a light jacket, a hoody for a functional, sporty look.
Are you ready to a leap into a new trend? Here are the best chest bags for men you can buy from the high street.
---
ZARA – TIE-DYE PRINT CHEST ACCESSORY – £35.99
BERSHKA – CHEST BAG BELT BAG WITH SLOGAN – £19.99
---
HXTN – Delta 004 PRIME Body Bag – £34.99
---
ZARA – MULTI-POCKET CHEST BACKPACK – £49.99
---
BERSHKA – Chest bag belt bag – £25.99
---
I finally had a chance to wear my chest bag out in public. I purchased it last year but realised that it wouldn't be an easy accessory to wear frequently. What helped was creating an all grey monochromatic look. The outfit started with a grey turtle neck jumper, teamed with cropped herringbone trousers and moc toe leather shoes.
---
What do you think of this popular bag trend?