The brown shoe and blue suit is a go-to combination loved by many suit-wearers, but I am bored of seeing this uninspired suit combination. A quick commute during rush hour will greet you with endless businesspeople wearing this look. Your task is to rethink your footwear and go from a follower to leader.
.
Here are my favourite shoes to wear with a blue suit that will help you move from basic to stylish.
---
BLACK SHOES
Black and blue may bot be an immediate colour pairing that may come to mind, but there is a subtle elegance when these two colours are worn together.
BURGUNDY SHOES
Burgundy shoes are my go-to pairing with a blue suit. The deep hue adds a rich tone to your look, which compliments blue tone perfectly.
WHITE TRAINERS
Swapping out shoes for trainers creates a young, modern tailoring look. Blue and white as a colour combination is perfect for the spring summer season nodding to the nautical theme.
NAVY LOAFERS
Matching your shoes to your suit is an easy guide when thinking of what shoes to wear. Monochromatic is one of my favourite fail-safe ways of putting a look together.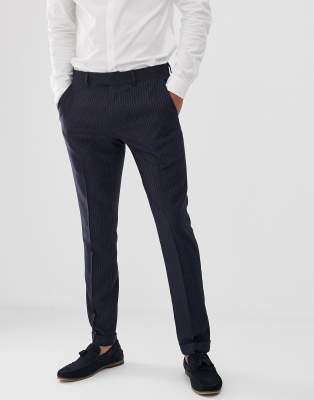 What are some of your go-to shoes to wear with a blue suit? (No brown shoes allowed!)