Add a bit of utility to your wardrobe with the mens jumpsuit trend. Inspired by workwear uniforms, the jumpsuit is perfect for when your boiler breaks down when you are on your way to a festival. 

There are many ways a jumpsuit can be styled. Before we dive into where you can buy the best overalls, you need to be confident in how you are going to wear it.
---
CASUAL
Keep it simple when it comes to styling. Wear the overall slightly unbuttoned to reveal your top or buttoned up for a seamless look. 
FORMAL
Go formal and combine the casual jumpsuit with a shirt and tie to give your security guard a run for his money.  
SLEEVELESS:
Reimagine the jumpsuit with a sleeveless silhouette. What better way to propel the jumpsuit into the summer season by doing away with the sleeve for a bicep-ready look?
SHORTS
Overalls don't always mean over all your body. Now that your sleeves have taken a hiatus, the only thing left is to chop a few inches from the leg to create a short style jumpsuit. 
DENIM
Boiler suits come in many different fabric variations, but denim will always be a favourite. Instead of going for the more apparent indigo style, experiment with less obvious denim colours. 
Here are my favourite mens overalls you can buy:
---
BERSHKA
ASOS
Denim jumpsuit with abrasions – £50
BERSHKA
ASOS
Relaxed denim jumpsuit with bomber neck – £50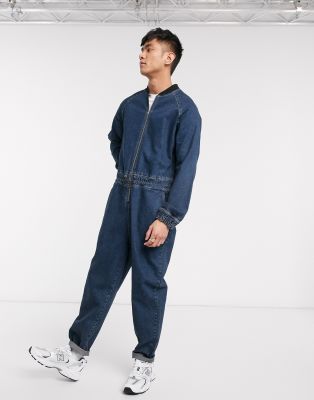 Do you think you can pull off the mens jumpsuit trend?