The ever so popular chunky sneakers show no signs of slowing down as we enter a new decade. 2020 introduces a wealth of new designs, silhouettes and technical detailing in a bid to add fresh new energy to the oversaturated trend.
While the Balenciaga Triple S will always be on the top of my chunky sneaker wish list, my bank account has other plans for how I spend my money this year. So instead, I am opting for the cheaper alternative from the high street.
Where can I buy the best chunky sneakers this season?
---
ZARA – KNIT RUNNING SNEAKERS WITH CHUNKY SOLE – £39.99
The latest sneaker from Zara takes the running sneaker to new heights. The sneaker features a knitted upper detail with pull tabs on the tongue and at the back. The sole is bold and features a unique design in a contrasting colour.
MANGO – Maxi sole sneakers – £59.99
This sneaker from Mango has a Phylon sole, designed to be lightweight and comfortable. In addition, the unique design features a multi-panelled upper made with a mix of suede, embossed leather and mesh fabric.
---
Chunky sneakers can be styled in a streetwear look or worn with tailoring for an unexpected style aesthetic.
---
VEJA – VENTURE SNEAKERS – £125
The venture sneaker is Veja's take on the popular sneaker trend with a mixture of rubber, leather and ripstock fabrication. It is detailed with the classic V and embossed logo at the back.
---
CAT – RAIDER LACE TRAINER – £95
An evolution from the Intruder, the raider sneaker style comes in a low profile with a trail grip rubber sole.
---
CONVERSE – RUN STAR HIKE – £89.99
The iconic converse all star is reimagined with a chunky gummed sole, breathing new life into this classic footwear staple.
---
ZARA – WHITE CHUNKY TRAINERS – £49.99
Boasting a multi-panelled upper, this sneaker from Zara combines in an all-grey colourway accented with darker tones for a 3D effect.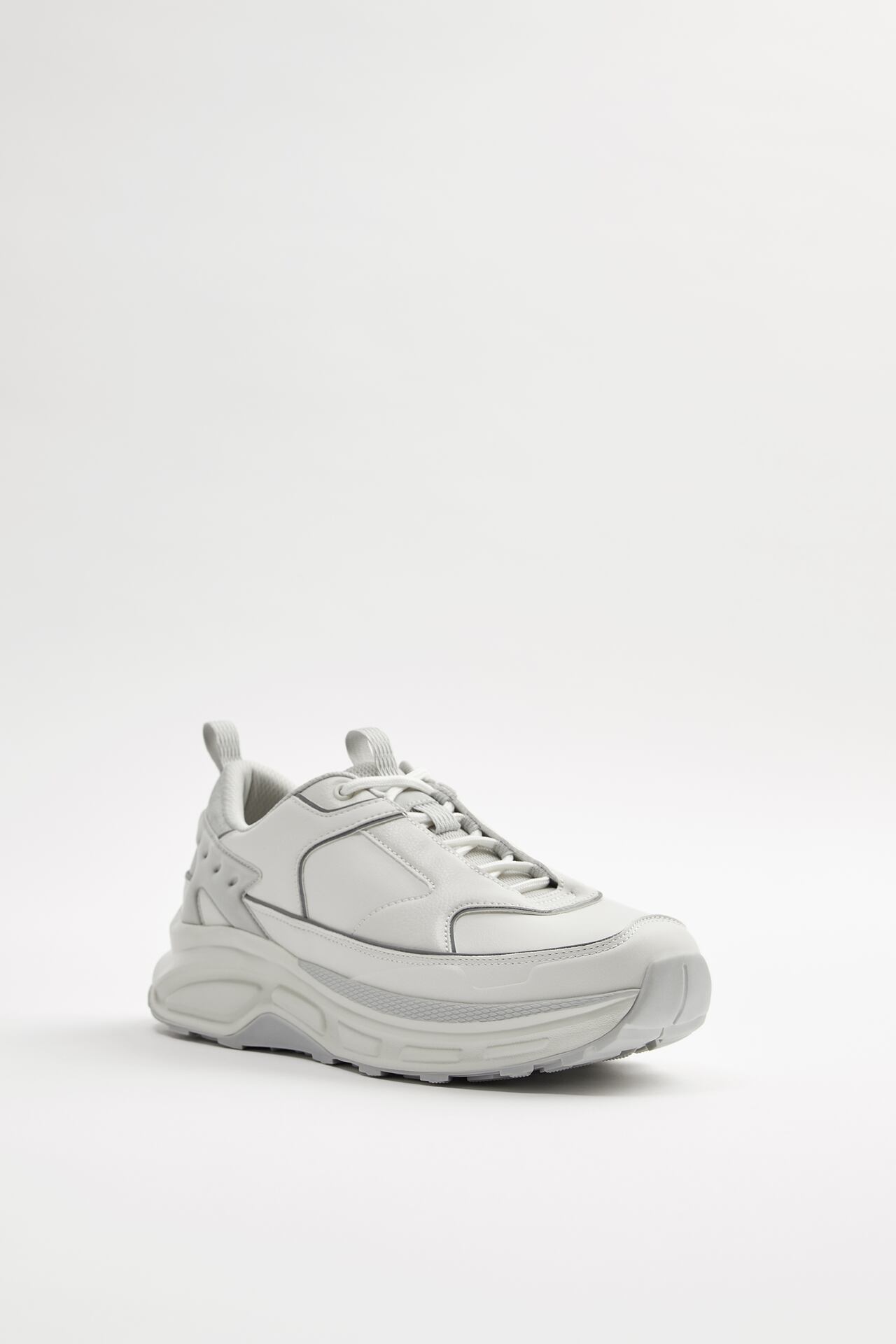 ---
The Intruder from CAT is the embodiment of sturdy footwear with a workwear edge. The Intruder nods to a previous design from the '90s updated to fit perfectly into the chunky sneaker trend in typical CAT fashion.
---
CALVIN KLEIN – MARVIN SNEAKER – £135
The Marvin sneaker puts mesh at the centre of the sneaker design. They feature an exaggerated two-tone rubber sole and a mix of suede and smooth leather.
---
MANGO – Volume sole sneakers – £89.99
From the volume sneaker collection, this silhouette takes a futuristic approach to the running shoe. With hollowed-out soles and a hybrid squared/rounded toe. It's going to be hard not to resist adding these trainers into your basket. These also come in a high top with Velcro straps.
---
PUMA – RS-Z College trainers 
What are your favourite chunky trainers to wear?