Men's crossbody bags have grown to become one of the most popular bags to have in your collection.  Popularised by streetwear enthusiasts, luxury and high street brands have taken advantage of the spike in popularity to create iterations of their own.

Styling is essential with the bum bag. The first and most famous way is wearing the bag at the front, over the right or left shoulder, clipped at the back. This style is perfect under outerwear or over a top, jumper or hoodie.
This way can also be reversed having the back resting on your back.
The second way to wear is grandma chic, having the fanny pack clipped at the waist.
The next way to wear is having the bag clipped over one shoulder allowing the bag to fall between your torso and your arm.
The final way is to have the bag at chest heigh hanging around your neck.
Here are some of the best men's crossbody bags you can buy:
LEATHER / FAUX LEATHER:
The bum bag in leather creates a sturdy, durable option, go faux-leather for a conscious alternative.
ZARA
Celebrate the spring season with a pastel coloured crossbody. Style with an all-black look for a pop of colour.
LACOSTE
The L.12.12 bag from Lacoste keeps the design of the belt bag clean and simple with an embossed branding taking centre stage.
COS
Slightly larger than the usual men's bum bag size, featuring a concealed zipper and a discreet handle at the back for a minimalistic aesthetic.
A compact seam-sealed belt bag with one main compartment. Contemporary and minimal.
MANIERE DE VOIR
Combining both Vegan leather and suede to create an elegant crossbody bag finished with a trendy push release clasp.
CALVIN KLEIN
A distinctly coloured belt bag in faux leather with two compartments and subtle branding.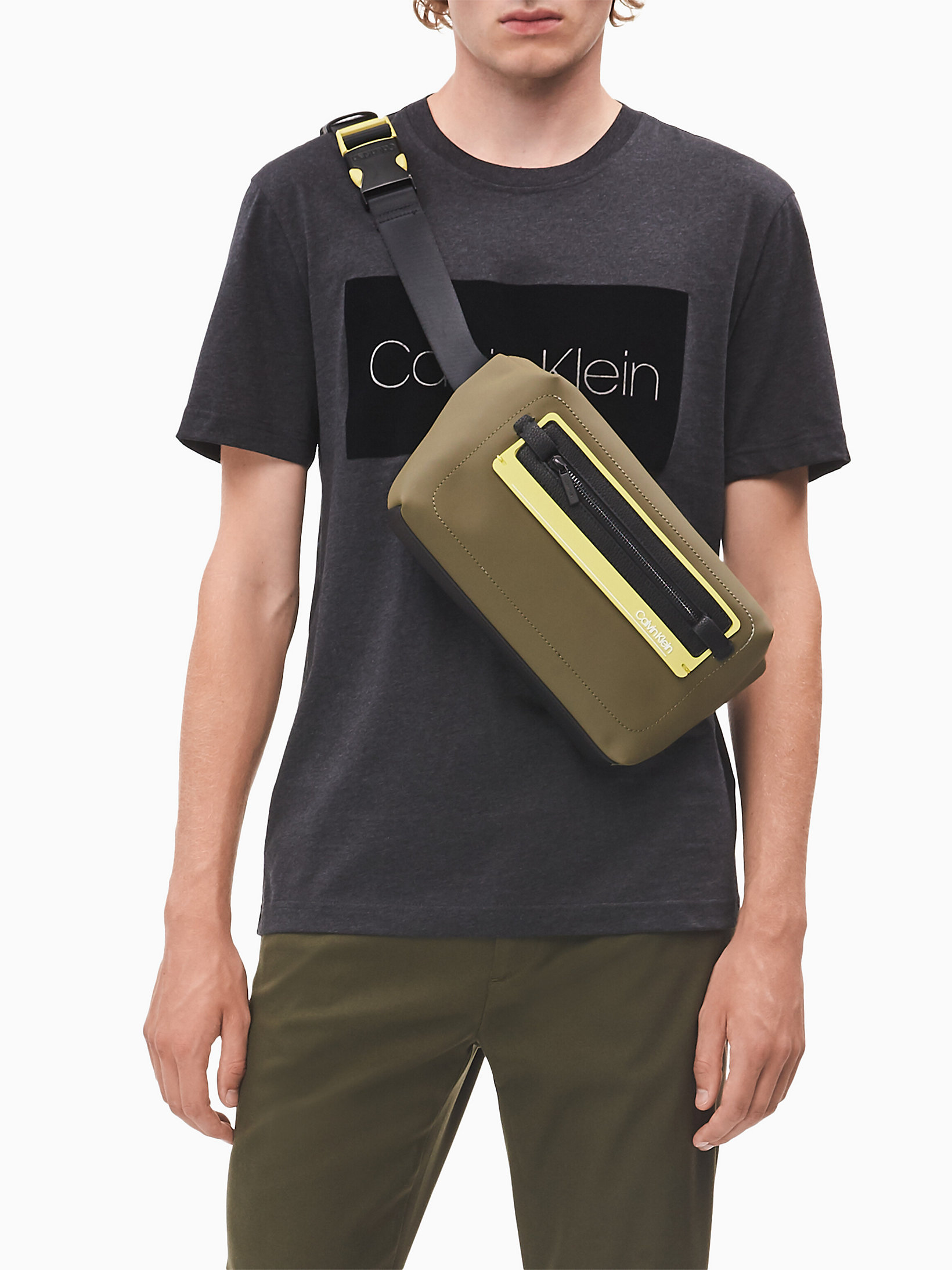 A square-shaped bum bag in textured leather. The bag has two zipped compartments and a mesh fabric back.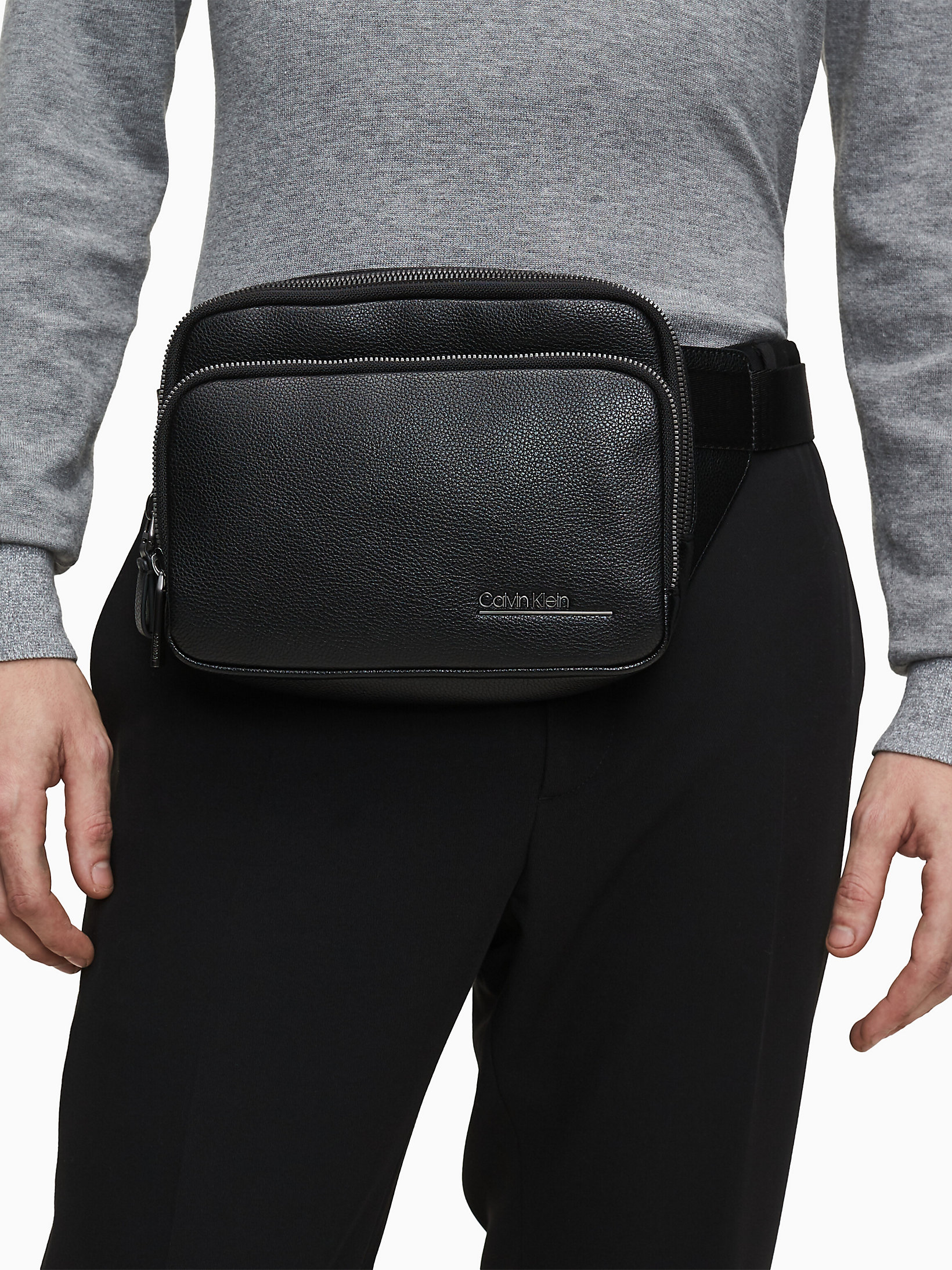 SANDRO PARIS
A premium black belt bag in pebble leather. This bag has a front pocket and a concealed main pocket with silver hardware.
If leather is not for you, go for a canvas in technical synthetic material or cotton for a lightweight alternative.
HERSCHEL
Casual and trendy, with a slew of pockets to create a functional men's bum bag in a bold military pattern. Also available in multiple colourways.
TOPMAN
Fusing the herringbone and ripstop fabrics to create a texture clashing camera bag.
H&M
A simple shoulder bag in a nylon fabric. The bag has two main compartments and a removable webbed strap.
WEEKDAY
The trip bag is a compact waist bag with a sporty aesthetic, featuring multiple compartments and a back handhold.
ARKET
Larger in design, and made in durable nylon, this crossbody style from Arket has space to house even more of your daily essentials.
CALVJN KLEIN
A slimline camera style belt bag, detailed with a front buttoned compartment.
Add dimension with a variety of fabric textures.
---
An oversized belt bag in a myriad of colours and functional compartments.
WEEKDAY
The pile fabric envelops this waist bag from Weekday, continuing the celebration of winter fabrics.
What are your favourite men's crossbody bags?