It's important to set a goal when attending a wedding. Mine is simple, to be the best-dressed guy regardless if I end up upstaging the groom. It's not my fault he chose to follow an outdated dress code and look basic at the most important day of his life.

When thinking about your outfit, your decisions should always link back to what other guests will be too afraid to wear. This will make you stand out and be the centre of attention.

Here are my favourite looks to wear to a wedding:
---
THE POWER BLAZER
Position your blazer at the forefront of your wedding look. The colour and pattern will depend on how much you want to upstage the groom and his groomsmen.

The pattern blazer can create the ultimate statement with designs ranging from jacquard embroidery to floral to stripes. The pattern should be bold and can be balanced with a solid colour trouser in a monochromatic or contrast colour.
If patterns are not your style, go for an unexpected colour choice. White for when you want to upstage the bride. No one is safe. Pair the blazer with chinos, smart denim, tailored trousers in different colours or patterns.
THE STATEMENT TROUSER 
Make your trousers the dominant part of the look. Wear with or without a blazer depending on the weather and location of the wedding. The trouser pattern is vital to the success of this look. Windowpane is a great check to choose, or you can go for a bold print or side-stripe.
Because of the statement on the bottom half of your look ensure your top half is toned down with a solid colour blazer/shirt to create a balance.
THE ELABORATE SHIRT
Another look that I love is ditching the blazer, wearing solid colour trousers and making your shirt do the talking. Bold designs such as vertical stripes or flowers will do the job perfectly. If you do want to wear a suit, you need to stand out from the sea of grey, black and navy blue suits.
THE LIGHTWEIGHT SUIT
Spring summer weddings require you to select the right fabric to ensure you don't end up sweating buckets. No one wants to look like Lee Evans doing a standup routine. Linen is your ultimate lightweight fabric. The only thing to consider with lightweight fabrics is that they crease easily. Just don't sit down, ever.
PASTEL FOR THE WIN
Pastel suits are trending in the tailoring world this season with soft sherbet tones dominating the colour offering.
FLOWER POWER
For when your jealousy reaches new heights, what better way to overshadow the whole bridal party with a floral suit number. Your floral decorated suit will put the bouquet to shame and gain the attention you are desperately seeking. Mission accomplished.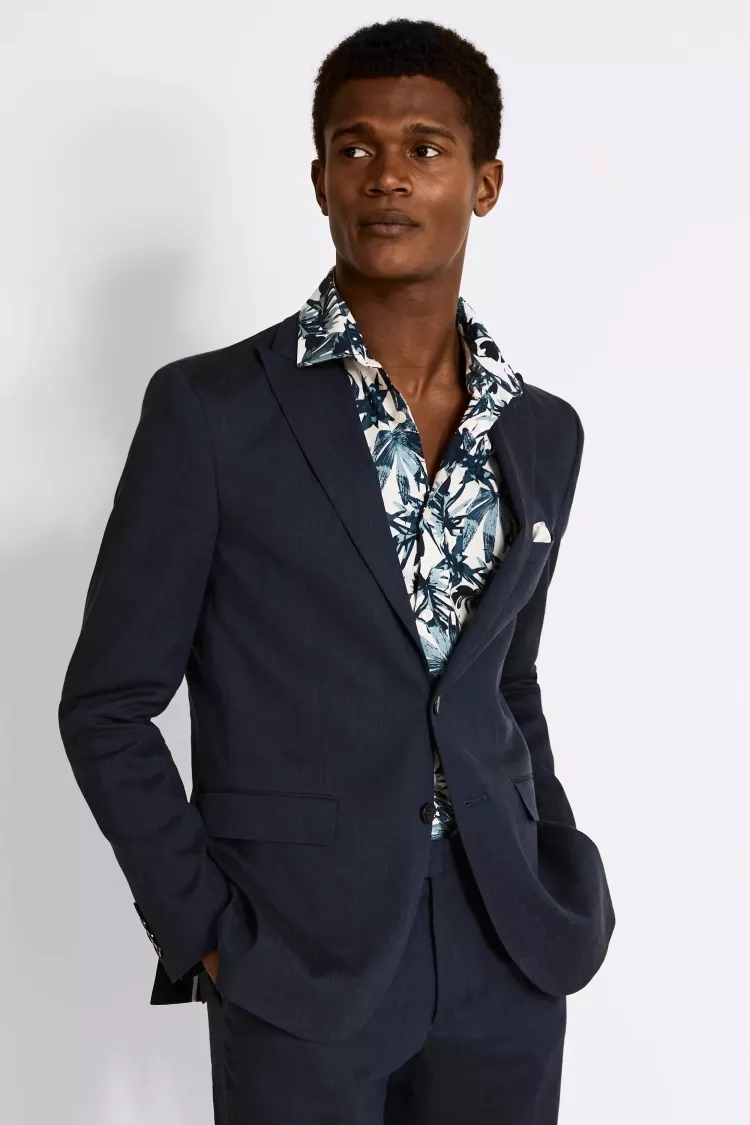 NEUTRAL GROUND
While the rest of the wedding guest will play it safe and lean towards, black, grey and navy. Playing it safe for me is going neutral. The muted earth-tone colour palette will give your distinction between your suiting counterparts.
What are some of your favourite wedding looks to wear to a wedding?