Belts are the ugly child of the accessory world. Neglected, lacking love and attention. This year, the ugly child is taking centre stage. The belt is making a comeback.

 

Trends such as the 'extra-long length' and 'military buckles' have thrust belts back into the spotlight, forcing people to wear a belt in fun and creative ways. It's time to upgrade your styling chops, here are a few ways you can style your belt:
---
THE LONG LENGTH
If you end up buying a belt that is slightly too long, you are in luck. 2019 saw the long line belts trending, breaking through the habit of looping the end of your belt and just letting it hang freely. There are no rules to how long you want your belt to be, remember the more extended the belt, the more hazardous it becomes.
THE KNOT
Belts that are more malleable can be tied up in a knot. Start by feeding your belt through the usual belt route. Instead of putting the belt end through the loop, try tucking it under and over the belt then feeding it through the hole that you have created.
THE FOLD
After you put your belt through the first loop, tuck it behind and let the rest of the fabric hang down to create a simple fold.
THE WRAP BELT STYLE
Forget using the belt as a functional accessory and be creative with how you wear it. Wrap it around a coat, blazer or sweatshirt to create a defined silhouette. If you have outerwear that has a belt, remove it and replace it with a waist belt.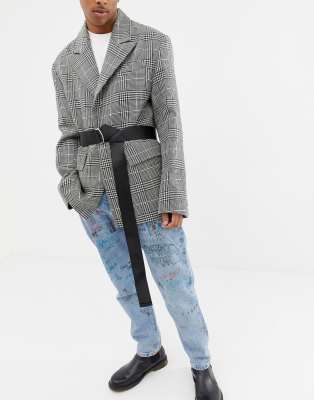 THE STANDARD BELT STYLE
This style is for the safe and generic guy. Keep the end of the belt secure by feeding it through the belt loop. You are not going to win any originality awards here, but sometimes a look requires you to go back to basics.
What are some of your favourite ways to style your belt?