Great quality umbrellas should be a birthright to every person living in the UK. It has become such a necessity that it has awarded itself with permanent membership in my bag.

For that reason, the umbrella that I carry – nearly all year – has to be the best quality. Here are my favourite umbrellas that will help you survive the rain.
---
M&S
The umbrellas from M&S are affordable and excellent quality. For the past five years, I have owned two M&S umbrellas –  a credit to how long they can last.

The style that I always buy is at £19.50. For that price, you get a sturdy, automatic folding umbrella that will be your trusty companion when battling the unsavoury weather. It features Stormwear and Windtech. I have no idea what they mean, but it sounds good to me.
City Umbrella with Stormwear™ and Windtech™

JAMES SMITH AND SONS
Next on my list is a shop that I have admired from afar. James Smith and Sons Umbrellas. A store dedicated to selling umbrellas. If you have a chance to pop into the store, you won't be disappointed; there are umbrellas in every style, design and quality. Prices start around the £40 mark for folding umbrellas, when you leave the store you know you are going to get the best umbrella you have ever owned.

I am obsessed with this Knirps Umbrella. "Knirps invented the folding umbrella and have been manufacturing and developing their products since 1928." I think it's safe to buy a folding umbrella from the brand that invented the style, don't you?
Knirps Topmatic SL Wood Crook Umbrella
LONDON UNDERCOVER
I discovered this brand on Instagram through the many algorithms that push adverts onto my feed. London Undercover – a British umbrella brand founded in 2008 – offers handcrafted umbrellas made "using age-old techniques", with "the finest materials and highest quality craftsmanship".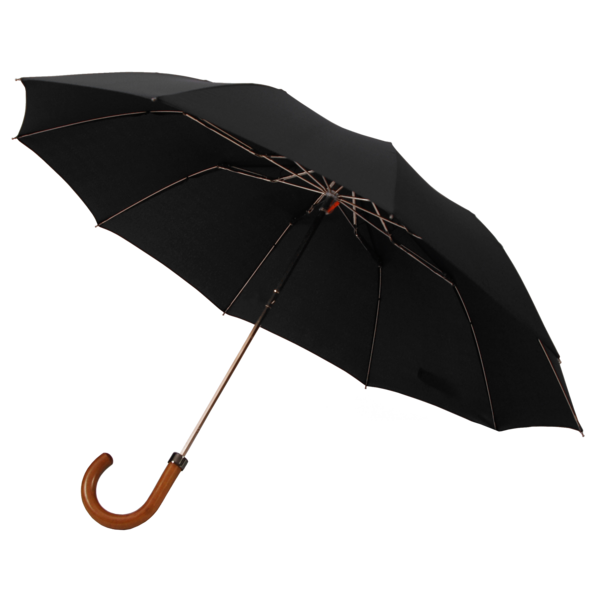 HACKETT
Make a fashion statement with a bold coloured umbrella from Hackett. Detailed with a contrast lining and a push release button, you are sure to stand out from the sea of black umbrellas.
Contrast lining folding umbrella – £50
CHARLES TYRWHITT
An old friend gifted a Charles Tyrwhitt brolly for my birthday about five years ago, and it is still in fantastic condition. I have no doubt the compact version is made with the same quality.
Black wind resistant compact umbrella – £24.95
PERCIVAL
Say goodbye to spikes with this unique, innovative umbrella from Percival. With a comfortable handle, a unique shape, and reinterpretation of the classic spike design. This umbrella boasts superior materials and has been tested in extreme weather conditions.
Where do you usually buy your umbrellas? Do they last?