Give your trousers a new lease of life with the side stripe trend. The simple stripe design can transform your tailored trousers or casual joggers into a statement piece.
You might already be familiar with wearing side stripe trousers. If you have ever received an invitation for a black-tie event, the trousers you will wear need to wear feature a satin stripe and let's not forget about the iconic three-stripe Adidas track pants that live in every guy's casual wardrobe. The trend takes inspiration from the world of sportswear tailoring and reinterprets the stripe design in a modern way. The results are trousers that will give any look a streetwear edge.
Here are my tips on how to style this trend:
---
The Clash
Make a statement by clashing the side stripe block with a bold pattern. In this example, the iconic prince of wales check is offset by a clean black side stripe. Other patterns include windowpane and pinstripe.
---
Tailored
Tailored suit trousers with a side taping allow you to add a fun element into your classic suit. Style with a white tee and a blazer in the same colourway to complete the outfit. Or dress down with a roll-neck and sneakers.
---
Sport
For a casual athletic take on the trend opt for jogging trousers in various leg lengths ranging from cropped, cuffed and regular.
---
Denim
The side stripes add a new element to jeans. Styles include a darker dyed stripe or a woven taping in tonal and contrast colours.
---
Tuxedo
Side taping is a standard for a tuxedo. The taping matches the satin finish of the blazer lapels. If you are in the bid to save money and get the best out of your wardrobe, why not repurpose your tuxedo trousers? The black-tie staple features a satin stripe and would fit perfectly into this trend.
---
If you want to buy something new, here are some of my favourite side stripe trousers from the high street you can buy.
---
ZARA – TROUSERS WITH COLOUR BLOCK STRIPES – £32.99
---
COS – REGULAR-FIT CONTRAST STRIPE TROUSERS – £69
---
MANGO OUTLET – Tapered cropped vintage jeans – £29.99
---
BERSHKA – Varsity trousers with stripes – £35.99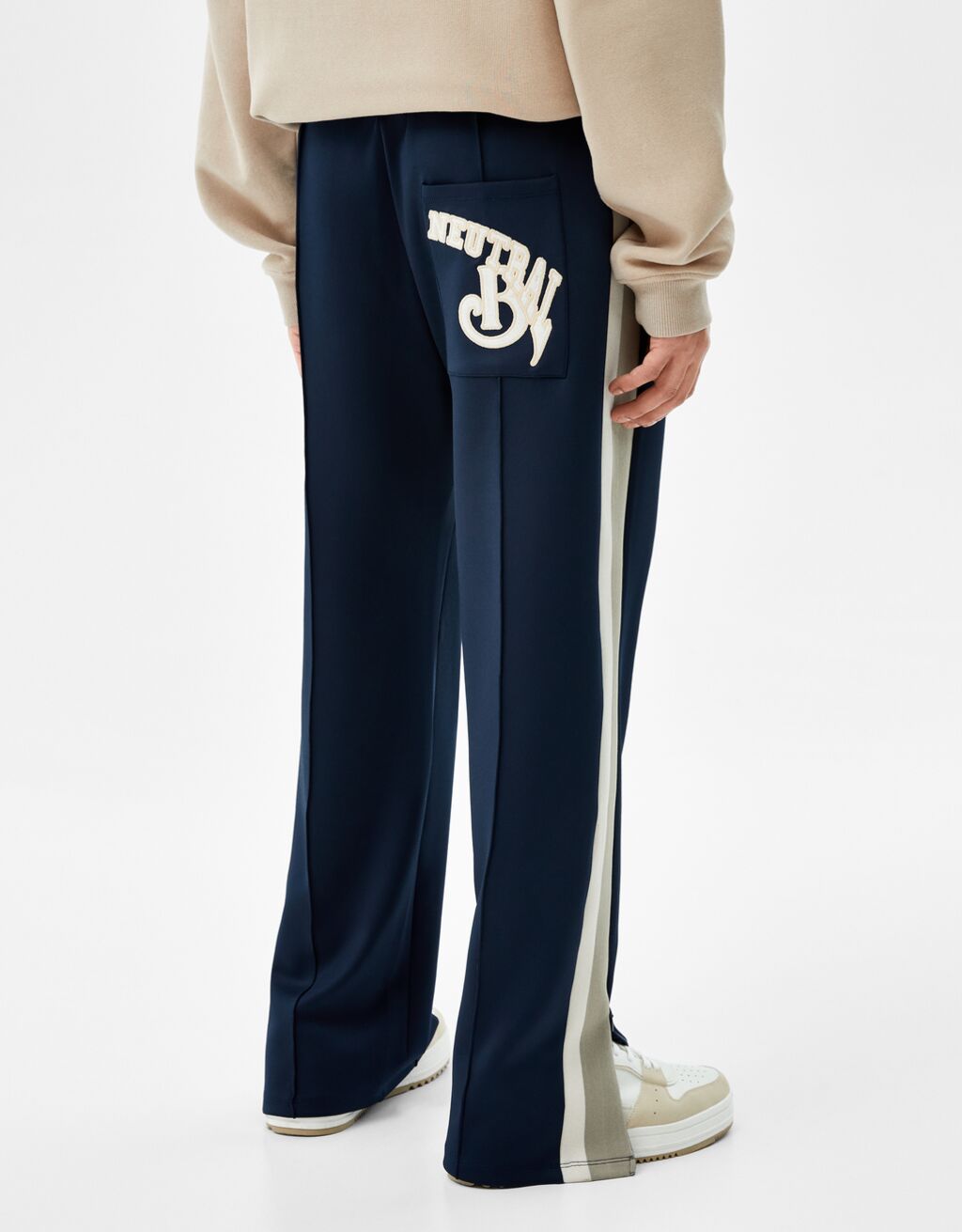 ---
ZARA – GEOMETRIC JACQUARD TROUSERS – £32.99
---
COS – REGULAR-FIT CONTRAST STRIPE TROUSERS – £69
---
What do you think of the side stripe trouser trend?